Tilsley House
Tilsley House started life as a care home in the 1980s. Over the years the Home has been extended and modernised to meet both demand as well as legislative requirements.
After the home came under new ownership in September 2010 (thus becoming part of Solomon Care Limited), the home has undergone a number of refurbishments. With constant investment in the environment, technology and refurbishments, Tilsley House is fast becoming a luxurious, state of the art home for our residents.
The Home enjoys a favoured location, overlooking Weston-super-Mare's lovely Clarence Park and just a couple minutes' walk to the beach front. Local shops and amenities are within easy reach, as is access to public transport.
Tilsley House is ideal for residential care homes seeking quality care in a tranquil environment, whilst at the same time being able to enjoy the activity of normal, daily life. So, whether you want to live with us permanently, just for a few days' respite, or to become stronger before moving back home, our staff will welcome you and look after you. See the Services page for more information about the services which we have to offer.
Our Activities Schedule for the next 12 months is here:

Activities Schedule 13th - 17th March.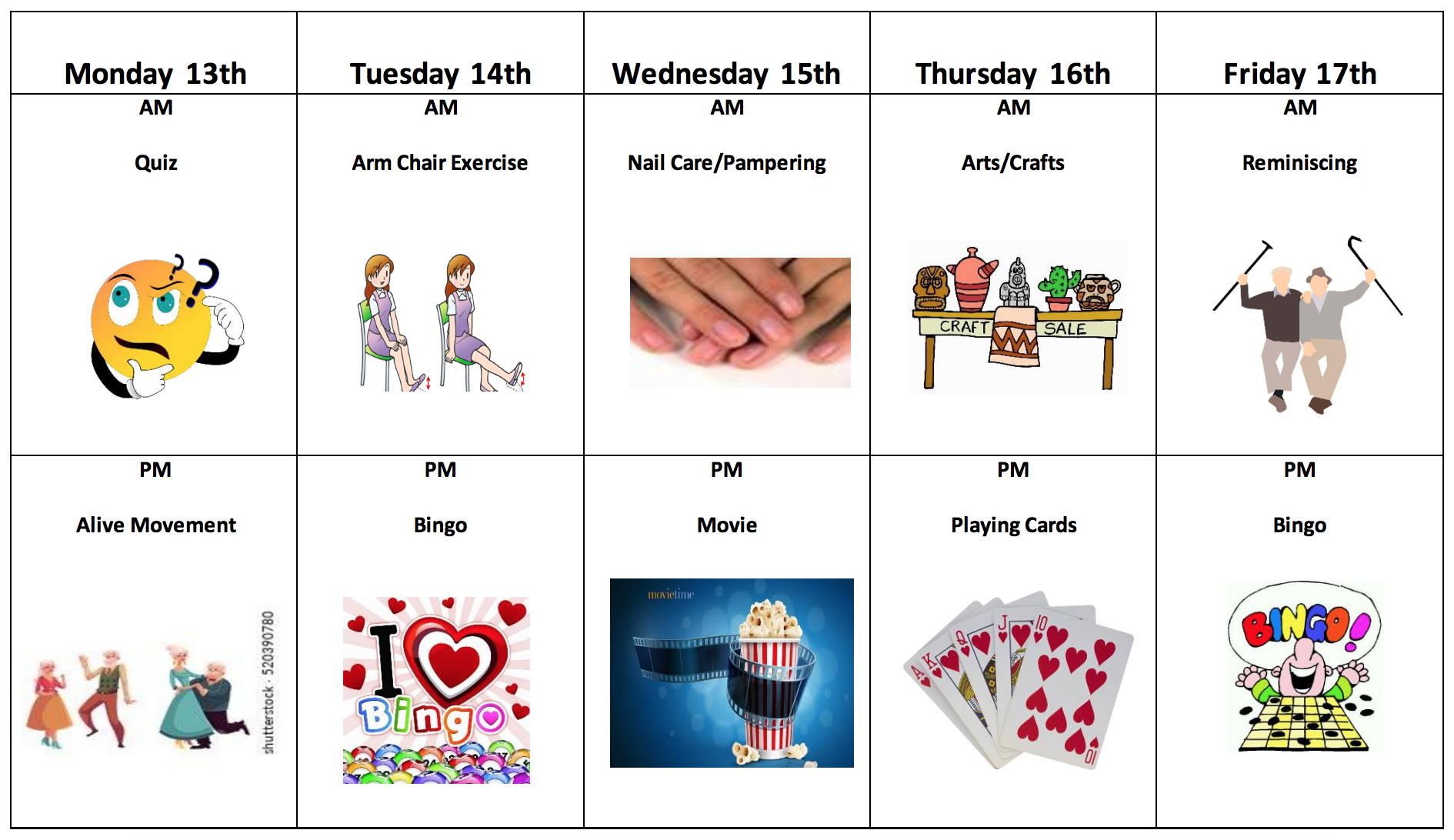 Click here to download our Tilsley House Brochure
Please Contact Us to arrange a visit.
Testimonials
"My stepfather has just moved into Tilsley House and the staff are amazing - so very caring and friendly. They have made my stepdad's move so easy and he has settled in so well and loves it there. He still has his independence but is now in a safe environment and he thinks the staff are wonderful and the food is amazing." Lorraine B

"My father spent fourteen months in Tilsley House, this was during covid, so a very difficult time as I was unable to visit to settle him. The staff soon made him settle and feel welcome. Throughout her time here, he was well cared for and also my needs as his daughter are acknowledged and supported. End of life care was exceptional and the staff could not have done more to make him comfortable, look after his family and explain the process, step by step to ease things for us. Thank you." Dawn W

"My grandad was a resident until he passed on 29/02/2022. The staff took care of my grandad extremely well and supported our family during his last few days. The end of life care they gave was respectful and compassionate. They allowed us to be with him 24 hours a day, providing us with emotional support and cups of tea. Special thanks to the staff who made Grandad's time here comfortable." Sarah M

"My dad really likes living in the home and said all the carers and the manager are so friendly and said the food is always good at food time. He really likes his room and it is always clean. They help him whenever he needs them to." Aimee R

"I feel safe, happy and at home here, and I am well cared for and recieve any help I need." Tommy R

"I would recommend Tilsley House Care Home to anyone." Patricia D

"My father has been in Tilsley house for about three months now. The staff have been incredible and done so much to make him feel welcome and accepted." Charles C

"Very happy with the care Mum has received since being here. Every member of staff has been extremely helpful and has kept us informed" Lynda T

"I am very happy with the staff as most are excellent and very caring - and I am particularly impressed that ALL staff, be it housekeepers or kitchen, interact with the residents all the time." Carolyn B

"You are made to feel welcome with a family feel. Entertainments such as art, cards, bingo or the odd quiz are both entertaining and a lot of fun." Y S
Photo Gallery